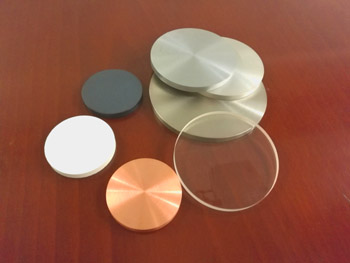 We offer pure elements, compounds, alloys, ceramics, intermetallics, and mixtures with high purities and quality for R&D and Production applications. Products are widely used in electronics, semiconductor, flat panel display, magneto-optical recording medium, solar photovoltaic and functional coating etc.
We also provide in-house sputter target bonding services by either standard and custom backing plate or copper foil bonding.
If the materials you are seeking are not listed, please email us your requirements as custom projects are our specialty.
Target Name Purity
Mg 99.99%
Mg2Si 99.999%
Mg2Sn 99.95%
Mg3Bi2 99.95%
MgB2 99.999%
MgF2 99.99%
MgO 99.99%
Mn 99.99%
MnPt 99.99%
MnIr 99.95%
MnO2 99.99%
Mo 99.95%
Mo2C 99.99%
MoO3 99.99%
MoS2 99.99%
MoSi2 99.999%
NaNbO3 99.999%
Nb 99.99%
Nb2O5 99.99%
NbC 99.99%
NbN 99.99%
NbSe2 99.999%
NbTi 99.95%
Nd 99.99%
Ni 99.9%
NiCr 99.99%
NiFe 99.95%
NiV 99.99%
Ni2Ga3 99.95%
Ni2MnGa 99.95%
NiCoCrAlY 99.95%
NiCr 99.99%
NiCrSi 99.95%
NiFe 99.99%
NiO 99.99%
NiS 99.9%
NiTi 99.99%
Os 99.99%
Pb 99.99%
PbF2 99.99%
PbO 99.99%
PbSr2TiO7 99.95%
PbTe 99.999%
PbTiO3 99.95%
PbZrO3 99.999%
Pd 99.95%
Pr 99.95%
Pr6O11 99.99%
Pt 99.99%
PZT 99.99%
Re 99.95%
Rh 99.9%
Ru 99.9%
RuO2 99.9%